In May of 2020, Choshi Factory had expanded 1.5times larger to become our new domestic production base.
The new layout which could complete all operation in just one floor would accomplish an industry-leading product efficiency throughout systems such as carrying in and out raw materials, cutting, sewing, inspection, packing and shipping.
Location

Choshi city, Chiba
Employee

42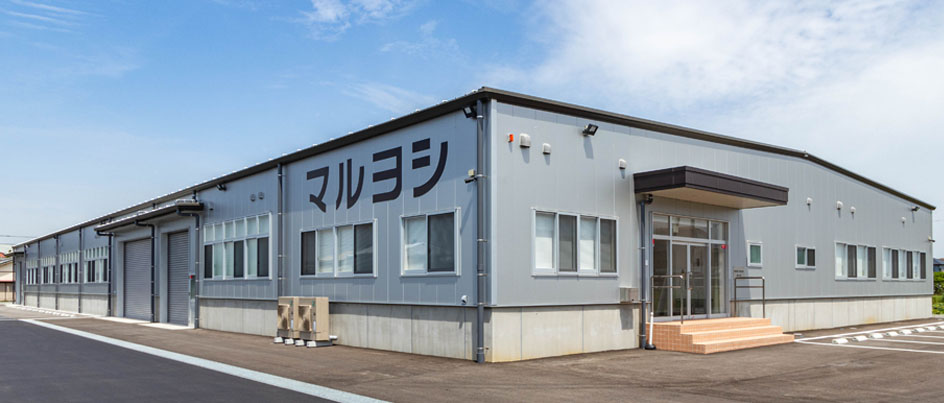 Our mission is to ensure delivery of high-quality products in due date. Choshi factory is possible to provide high-quality products in due date because of the factory layout which has all section in one floor. This layout would connect each section more smoothly and support each other.

Cutting
Equipment

2 automatic cutting machines, 2 automatic spreading machines, 2 CADs, 2 press machines,
1 fabric cutting machine
We are pursuing a high accuracy of cutting by 2 latest model of CAD/CAM which could cut much speedy, and thorough operation to handle the request from sewing site.
Reduce a burden of a sewing

Quality of cutting effects to sewing efficiency. We provide 3steps to improve the sewing efficiency. 1. Adjust the blades speed to each material, 2. Prevent the sticking to make clear part of product, 3. Work on reducing in manufacturing size error.

Well-prepared management system

We will treat the client's products with care. We store the material to each own place not to give damages. So that it will be possible to produce repeated products in the same quality.

Sewing
Equipment

36 sewing machines, 6 free arm sewing machines, 10 2-needle lockstitch machines,
8 computer-controlled machines, 1 post sewing machine, 1 overlock sewing machine
We offer the perfect products for client, with meticulous attention to detail and strength based on repetition of prototype and contriving for every new work, and MONODUKURI spirit.
50 years history of technique

Choshi factory has developed and manufactured various products in 50 years of its history. Those experiences now become reliable techniques in making all kinds of products, even bags, wallets, and oversized bags.
Knowledge makes the quality

Communication among staffs is one of our important tasks. Production instruction connects between sales staff and factory. We always update the production instruction, such as production planning sheets, and reflect the client's intention.
Small ingenuity provides high quality

We always upgrade the production by taking an idea from staff on site.
Our sewing machines have lots of small inventions to produce high quality products. There is also lots of idea from sewing site, for example, the way to store small parts and goods in process. Such little ingenuity brings result of the stable quality.


Inspection
Equipment

1 needle detector, 1 x-ray inspection machine
Every product is inspected by technical staffs because all bags have its individual difference.
Inspect politely and rigorously

Our products have cleared various required conditions, dirt of material, test function of metallic parts.

We inspect the material every time before shifting to next production process. When arriving at the factory, before cutting and other process, we check the dirt and size before sewing.

Checking properly different point of each item which is based on inspection instruction sheet by technical staffs. This system provides the high-quality products and clients' satisfaction.
The X-ray inspection device helps finding the risk that human cannot realize visually.